KIMONO ART provides beautiful rental kimonos, dress-up services, photography, kimono cleaning and repair services to introduce you to the enchanting world of kimonos and propose new ways to enjoy them within the western lifestyle. Services are supervised by Yu Ugawa, a kimono master dedicated to reviving Japan's national costume and introducing it to the next generation.
Reservation is now available for pre-event photography sessions; including Japanese style weddings, Coming-of-Age Day, shi-chi-go-san (celebration for children who have reached the age of three, five and seven) and jyu-san-mairi (celebration for girls who have reached the age of thirteen). We will have sample photos and kimonos. Services, terms and pricing to be discussed. Please contact us : contact@Kimonoart.org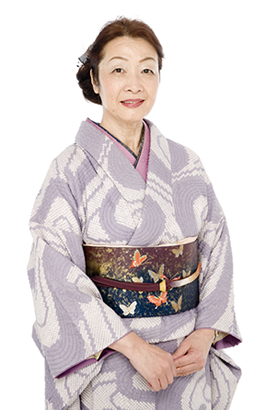 Yu Ugawa
Ugawa-san was born in Ashiya-shi, Japan. She married with the owner of a long standing Kimono Shop located in Kobe. She became very interested in Kimono, and worked hard to become a kimono expert. She founded "You & Yu Kimono Kitsuke Gakuin" in 1993 to educate people about the proper wearing of Kimono and the coordination & selection of Kimono and accessories. In 1994, she founded "Bridal Group You & Yu" to advise and assist with the wedding ceremony attire for groom and 7ride in both Japanese-style and western-style. In 2002, she became an exclusive bridal coordinator in the Katsura Sanso, a high-class Japanese-style restaurant and inn. She has presented several Kimono/Yukata shows in Kobe. She also conducted Kimono Presentations/Shows in Florence, Italy (2005) and Rotterdam, Holland (2007). 
鵜川 有 (UGAWA YU)
Executive producer/ Master Kimono Coordinate
Instructor Bridal group YOU & YU
---
Event/Activities
2016
Yukata Show (Bellevue, Eastside Japan Fair)
Azumi Hosoda Asian Talk (Seattle Asian Art Museum)
2015
Haikara Sanpo (Bellevue, Eastside Akimatsuri)
2014
Retro Modern Kimono Show (Seattle Asian Art Museum/Japan America Society)
2013
The Tradition and Culture of Kimono (Seattle, Hokubei Hochi Foundation)
2012
Kimono Occasions to celebrate (Seattle, Nikkei Concerns)
2011
Retro Modern Kimono Show (Seattle Asian Art Museum/Japan America Society)
---
Event Inquiries, Please contact us at contact@Kimonoart.org