---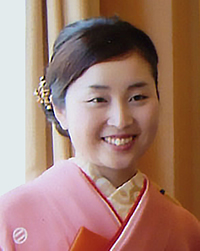 Azumi Hosoda
細田あずみ
Azumi Hosoda-Wax resist dyeing Artist: Azumi Hosada instructor principles of Dyeing, Kimono Dyeing, Textile Design Course, Department of Design, Nagoya University of Art. She received D.F.A. in Art, Kyoto City University of Art, Kyoto 2007. As a Dyer, she has 20 years experience in textile and craft field and 6 years design experience in the KIMINO field, specializing in ROUZOME wax resist dyeing. ,Azumi Hosada recent projects are as follow; Exhibited Contemporary NOREN exhibition in Kyoto Art Center 2015, Exhibited GION festival exhibition in SOME SEIRYUKAN(dye museum) 2015, Exhibited NIHON SINKOUGEI exhibition in Kyoto in Municipal Museum of Art 2015. Azumi Hosodas exhibition of art works by wax resist dyeing, will be held at Seattle Kobo Gallery (HIGO) from April 30th to May 14th. Her contemporary modern work using wax dyeing (rouketsusome) on Kimono and panel boards are creative work of art which display true traditional craftsmanship and futuristic elements.
---
In the method known as wax resist dyeing, the powerful resistant force of the wax allows the artist to apply dye in rich quantities, and to layer colors over each other. When colors are layered in this way, it produces an effect like the layering of colored cellophane, where the combination with the color beneath creates depth. It is this color layering effect that has been the principle underlying my wax resist dyeing to date.
The technique also allows me to produce smooth, transparent color gradation effect. I consider this expressivity as the spatial, multi-dimensional framework for the works, and feel that it allows me added clarity in the expression of their representational themes (in the works exhibited here these are: food, coral, the human figure, octopus, and games).
When a kimono is displayed on a clothes rack it produces a fascinating effect, simultaneously both surface and something other than surface. Likewise, when it is worn, the act of wrapping it around a body produces numerous curved surfaces. These surfaces of the kimono also create the pleasure of very different ways of viewing the work. Cloth that contains movement is delights with its beauty. The shape of the kimono harmonizes with the themes I bring to it.
Event Information
2016 Holiday Celebration Dinner & Auction Galleries Artwork
Tuesday, November 29, 2016
Time: 5:00 PM - 9:00 PM
Japan-America Society of the State of Washington
Details
---
Press
November 28, 2016
Artist Inquiry
Check artist availability and pricing for your upcoming event.
Contact Us!